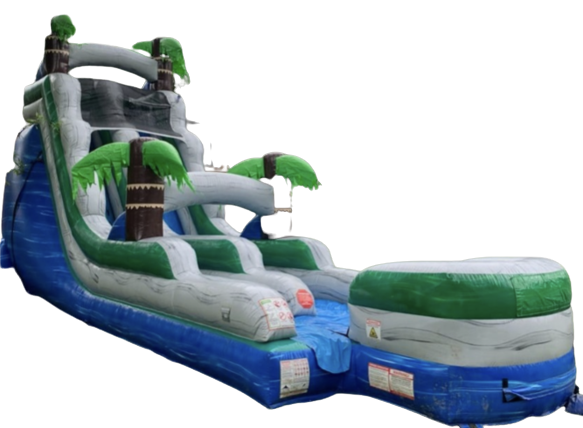 18' Paradise Plunge
18' Paradise Plunge
Turn your own backyard into an unbelievable tropical paradise with the Inflatable Fun super-popular 18' Paradise Plunge. With replica palm trees overhead, your guests can enjoy wholesome and safe fun making their way down two parallel slides, landing on a secure lower inflatable pad.
Our Paradise Plunge can also be used indoors - if you've got the space! Outdoors, however, you can take things up a notch with the addition of ice-cold water. Slip and slide faster down the path, and take an even more exciting plunge when you reach the bottom! Kids of all ages love the Paradise Plunge, and for good reason: it provides both individual and team play.
Our high-quality party inflatables are the best in the region, and our reputation speaks for itself. Ask friends and neighbors about the Inflatable Fun Company — there's a good chance they're already a customer. Our Greater Cincinnati service area covers a lot of ground, and we're guaranteed to be just a phone call away.
No matter the event, we've got you covered with all the essentials. Tents, tables, party games, and even concessions are on deck when you partner with the Inflatable Fun Company. Our professional, experienced staff is able to advise custom party packages and can work with nearly any budget.
There's also safety to consider. All of our inflatable bounce houses and slides are fabricated with durable, lead-free vinyl components. They're thoroughly cleaned with two hospital-grade disinfectants, and inspected for damage. Rest easy knowing that our commitment to quality extends beyond our customer service—it applies to our inventory of party rental equipment, too.
Call or email Inflatable Fun today! We'll be standing by and can answer any questions you might have about the 18' Paradise Plunge, or other party essentials like tents or seating. We're in the business of fun, and we're ready to get the party started. Let's take the plunge!