Welcome to DaytonInflatables.com
Welcome! Inflatables in Dayton! - What is a better tonic than the raucous laughter of children (and adults!) on a warm spring day? Dayton Inflatables is the provider of choice for giving your party or event that oomph to take fun to the next level. If you need an inflatable bounce house or a cotton candy machine, a dunk tank with carnival games or tables and chairs; we have you covered.....and we have tents as well! Dayton Inflatables is service and safety oriented to provide a dream day for you, your team, and your family. You can relax and be a "guest" at your own party!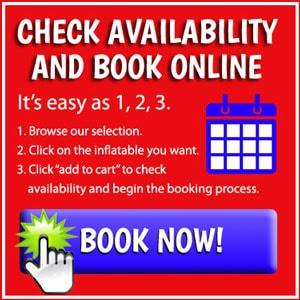 Easy Online Reservations
Booking your rental reservation online has never been easier. Just click the "Check Availability" button at the top of every page, anytime, and enter your event date and times. Then as you browse all the exciting attractions and equipment, you will be presented with everything available on your celebration day. When you see an item you want to rent, just click the "Add to Cart" button and begin building your shopping cart for checkout.
Once you start your shopping cart, you can continue to browse through our online store by clicking the "Continue Shopping" button. What to see what's in your cart? You can always check on what's in your cart at anytime by clicking the "Cart" button at the top of every page. Reservations on theInflatableFunCo.com site is truly easy as one, two, three! Experience the Inflatable Fun Company difference. We're ready when you are!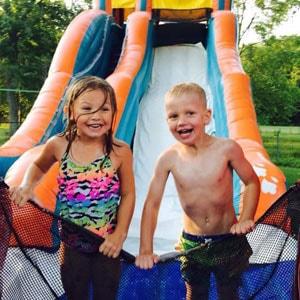 Company Picnics & Family Fun Day
Be a guest at your corporate picnic or family fun day. Dayton Inflatables can plan and execute your company picnic. In addition to our full line of inflatables we have tents, tables, chairs, games, mechanical rides, concessions, catering partners, and entertainment partners to ensure a day of fun. Sit back and relax as our staff mans the inflatables, games, and food. We work within your budget to deliver a dream day for you, your team, and you families. You get to be a guest at your events with Dayton Inflatables!
Give your little one the birthday party you always wanted as a kid complete with carnival games and cotton candy. We can provide bouncers, a photo booth, face painters, balloon twisters and just about anything else you could desire. Make your child the envy of the neighborhood. Call us today!