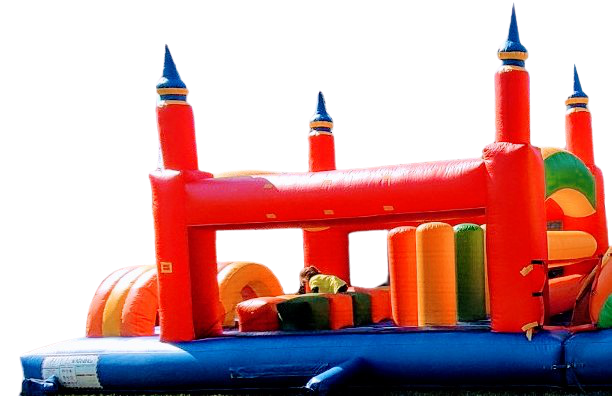 Junior Obstacle Course
Junior Obstacle Course
When it's time to party, book the Junior Obstacle Course for endless fun. More than just an inflatable bounce house, the Junior Obstacle Course offers a number of inflatable obstacles throughout, with castle theme towers reaching into the sky.
Bright blue and red colors provide eye-catching vibrance, and guests of all ages find the Junior Obstacle Course irresistible. It's a great unit for multiple users to enjoy together, and also packs plenty of thrills for individual fun. Exhilarating competitive play and casual enjoyment, combined!
At Inflatable Fun, our dedication to the customers and communities we serve is everything. We're proud of a reputation that's been built, one customer at a time, and today we're proud to be Cincinnati's top supplier of nearly every rental item you could want for a perfect party. Our courteous staff are standing by to take your call or email. Allow us to tailor a perfect party package to fit your budget and event space — we'll take it from there!
The Junior Obstacle Course is perfect for both indoor and outdoor events. Add concessions and complementary games for a true event transformation.
Like all of the items in our inventory, the Junior Obstacle Course is routinely inspected and cleaned to ensure that you can party with peace of mind. Tough, durable vinyl construction means that these units stand up to the toughest players out there.
But wait … there's more! Customers who have rented our Junior Obstacle Course have also spoken with us to learn more about our Cowabunga Wet-Dry Combo, our Hatchet Toss game (it's a lot safer than it sounds - fun for all ages!) and the World of Disney inflatable.
No matter what your party or event calls for, Inflatable Fun knows how to bring in the fun! Call or email us today.