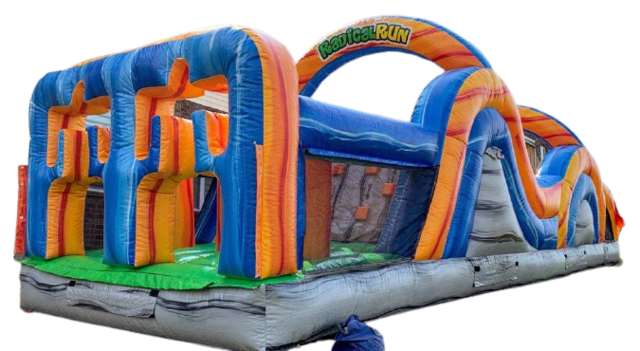 Radical Run Challenge (section 1)
RADICAL RUN CHALLENGE
The Radical Run Challenge is a great unit for events that require altitude with attitude! This one gets guests fired up right out of the gate, with heights to climb and lots of fun getting there.
As with any of our inflatable units, safety is key and you can rest easy when you work with The Inflatable Fun Co. We bring experience and know-how to your party plans, and we know how to do things right. The Radical Run Challenge is in demand, and our team has installed this unit for both indoor and outdoor fun.
Our team is an established band of professionals, and we deliver to you much more than event essentials. We bring you peace of mind and quality assurance - both in our product construction, and in a level of service that makes us the region's most-recommended party and events rental company.
The Radical Run Challenge is popular with community events and other functions that bring neighbors together. The competitive fun the comes out a unit like this is simply undeniable! Multiple guests and make their way along the inflatable obstacle path, and enjoy all the safe fun that comes along with it. Eye-catching colors are bright and generate excitement, and our staff sets everything up professionally for you and all the guests you are planning to entertain.
You'll also want to keep in mind the other party essentials we can deliver - lik, etents and concessions. Take a look at all we offer, and build the perfect party package today! We are standing by to help, and await your call.
Or, consider taking a look at our other inflatable obstacle course units, like the Radical Run Course or Castle Obstacle Course. There's so much to choose from! That'ss just one reason why customers love ordering from us.