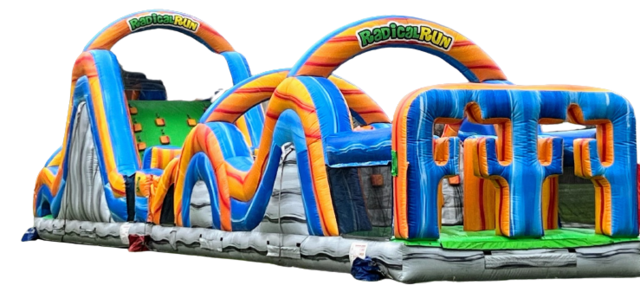 Radical Run Challenge & Path (Section 1 & 3)
Actual Size: 10x60
Setup Area: 20x80
Outlets: 2
Attendants: 2




Section 1: Radical Run Challenge
Welcome to the Radical Run Challenge, where adrenaline meets adventure! Get ready to push your limits and conquer the most thrilling obstacle course ever designed. This is not your ordinary run - it's an exhilarating experience that will leave you breathless and wanting more.
Our Radical Run Challenge is designed to test your strength, endurance, and determination. With a variety of obstacles strategically placed throughout the course, you'll need to navigate through mud pits, climb over towering walls, swing across monkey bars, and crawl through tunnels. Each obstacle is carefully crafted to challenge your physical and mental abilities, ensuring an unforgettable and rewarding experience.
Whether you're a seasoned athlete or just looking for a fun and exciting challenge, the Radical Run Challenge is suitable for participants of all fitness levels. Our course is designed to be inclusive and enjoyable for everyone, so gather your friends, family, or colleagues and join us for a day of adventure and camaraderie.
Section 3: Radical Run Path
Embark on a journey like no other with our Radical Run Path. This scenic trail offers a unique opportunity to explore the great outdoors while engaging in a thrilling physical activity. Whether you're a nature enthusiast or simply looking for a change of scenery, our Radical Run Path promises an unforgettable adventure.
As you traverse through the path, you'll be surrounded by breathtaking natural landscapes, including lush forests, rolling hills, and sparkling rivers. Take a moment to soak in the beauty of your surroundings as you challenge yourself to conquer various obstacles along the way. From balancing on narrow beams to leaping over fallen logs, each obstacle is designed to keep you engaged and energized throughout your journey.
The Radical Run Path is suitable for individuals of all fitness levels, offering a perfect opportunity to reconnect with nature while getting your heart pumping. Whether you're seeking a solo adventure or looking to bond with friends and family, our Radical Run Path is the ultimate destination for outdoor enthusiasts.
Join us on the Radical Run Path and experience the perfect blend of nature, adventure, and fitness. Get ready to push your limits, embrace the wild, and create memories that will last a lifetime.