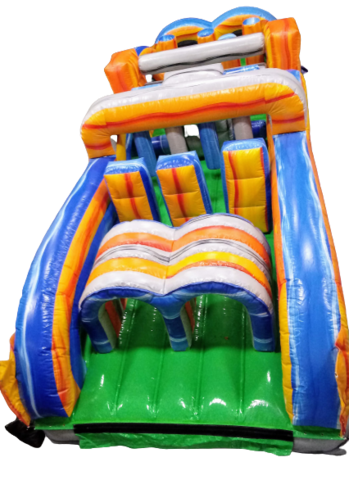 Radical Run Course (section 2)








Radical Run Course
Activity seems to follow our Radical Run Course, and it makes sense - it's an inflatable obstacle course that encourages friendly competition and fun activity, key for any party or special event. A vibrant path guarantees excitement for everyone making their way along the Radical Run Course.
In fact, the Radical Run Course accommodates more than just a couple guests! It's size is perfect for special occasions where multiple guests will be looking for simultaneous fun. Compete one-on-one or tackle different components of the Radical Run Course for excitement you can't deny. Birthday parties don't just take place at home - so we can deliver in public spaces like parks, community centers and event halls. Or, ask about setup for corporate events and college parties. We deliver the fun for partygoers of all ages.
Our staff is second to none and the Radical Run Course dials in fun for parties of any size. We can also accommodate fun for all ages, so get in touch today with your event needs! The Inflatable Fun Co. has the experience and trained staff ready to answer any questions you might have about our entire inventory of inflatable obstacle courses, like the Radical Run Course.
Have you considered other party and event essentials? Every special event is different, and we have the experience and inventory to bring all that you'll need or want. That includes tents and and concessions for both indoor and outdoor fun. If it seems like we do it all, that's because we do! Now, let's get started planning your perfect party.
The Backyard Obstacle Course and Castle Obstacle Course are just a couple of the other great inflatable units we offer. Check out our full inventory online, and call us with any questions! Your convenience and satisfaction are key for all of us at The Inflatable Fun Co. Let/s see what we can do for you, today!