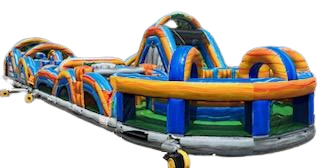 Radical Run Extreme
Radical Run
Extreme
Looking for radical summertime fun? Look no further than our Radical Run Extreme, hands-down one of our most popular products.
This extreme inflatable obstacle course brings a big punch to birthday parties and community events, and it's loads of fun for kids of all ages. Four great individual components make up the full-blown Radical Run Deluxe: the Radical Run Challenge, the Radical Run Course, the Radical Run Path, and the Radical Run U-Turn. Put 'em together, and what do you get?
Unparalleled fun and thrilling experiences for everyone!
Eye-popping visuals make Radical Run Deluxe's rugged vinyl construction stand out. Don't settle for the same old-same old boring inflatables when you can complete your own radical races surrounded by bright, vibrant colors. Radical Run brings radical fun — one on one, or for solo runs. Take game day up a notch!
How much excitement can your guests handle? Radical Run Deluxe is perfect for summer fun under the summer sun. Add a splash of water and have cool drinks at the ready for an unbelievable experience! Or, take the fun indoors for year-round thrills.
Of course, safety is our biggest priority. All units are constructed with high-quality materials, and each one is fully inspected before and after each use. They stand up to active play, and they're professionally cleaned to ensure a safe experience for everyone.
Ask your friends, family, and neighbors — our track record speaks for itself! We provide a winning assortment of bounce houses and inflatable units, and we're able to customize a party package to fit any budget.
Inflatable Fun takes pride in our reputation as the region's most dependable supplier of party and event accessories. Concessions are always in stock, and our planners are standing by for your call or email. Allow us to help you plan the perfect event!