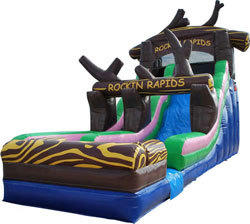 Rockin Rapids Water Slide
Actual Size: 36L x 14W x 22H
Outlets: 1
Attendants: 1




Rockin Rapids Water Slide
There's nothing quite as thrilling as hitting the rapids, and it's a mental picture that gets hearts pumping and thoughts racing about the ultimate natural excitement of rocky river travel.
All that excitement and more are yours when the Rockin Rapids Water Slide is reserved for your next party. Call today - this one goes fast and is one of our more popular units.
What makes this one stand out? Well, aside from the Rockin Rapids theme - as if that isn't enough - this one has nothing less than a 22-foot water slide. Drop into fun and make the splash of the season, when you cool off the entire gang at once with the Rockin Rapids Water Slide. It's no joke and pure adrenalin-filled fun for everyone on your guest list.
It's safe, too - and not just for the adults! Kids of all ages delight in all the cool fun that a water slide provides, and this unit is manufactured with some of the toughest components available. Inflatables by nature are dependable, durable and safe for active play. Rest assured and party hard with your party partners at The Inflatable Fun Co.!
As with all of our rental units, the Rockin Rapids Water Slide is thoroughly cleaned before and after each use, and frequently inspected with a careful eye to ensure nothing but the best experience possible.
The Inflatable Fun Co. employs only the best, so we have a trained staff member ready right now to speak with you. Not sure if this one's the right size for your space? That's a great concern, and we are extremely confident in our ability to help you plan and consider some of the not-so-obvious points that sometimes get overlooked.
Browse online, call us with any questions, or book it yourself via our intuitive and helpful website. Whatever level of convenience suits you, we are happy to accommodate and meet you there.
Now, let's party! It's time to hit the rapids - the Rockin Rapids Water Slide, that is. Let's party!